Working together is key in the Expat Mortgages' philosophy.
Together with you we will draw up an inventory of the risks involved when taking out a mortgage. We will look at what risks would need to be insured and will advise you on products that match your profile and personal situation.
We're independent.
Expat Mortgages is an independent mortgage agency and we are able to provide mortgages from most banks and insurance companies operating in the market. However, since not every bank is willing to finance or insure an expat, we cannot guarantee to provide a mortgage with every bank and/or insurance company.
The seven steps to get a mortgage.
Before you start looking for property, talk to one of our advisors. The advisor will determine your budget, explain the do's and don'ts and guide you throughout the entire process. This to make sure you will not be faced with unpleasant surprises along the way.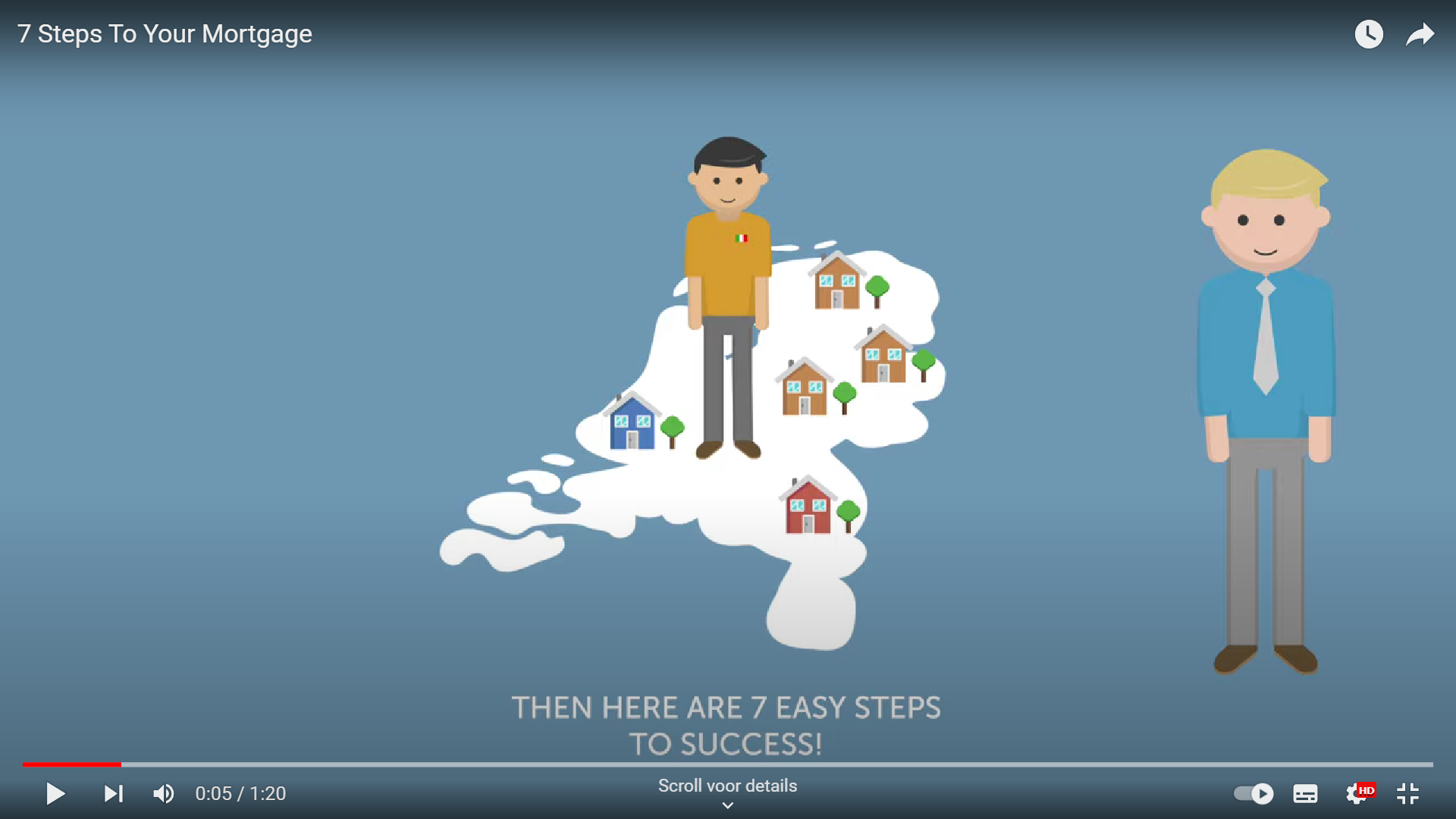 Step 1
Determine your budget
We advise a free of charge consultation with one of our experts before you start looking for a home. This will give you an accurate assessment of the price range that fits your budget and the related monthly mortgage. Then you can act quickly if you find the perfect house and start negotiating on price and terms.
Within one week of the appointment you can expect to receive the following:
– A summary of the meeting
– A First General Mortgage Report with:
1. An indication of your maximum loan
2. Details of the price range you can afford
3. Calculations on gross and net (monthly) expenses with different mortgages and fixed  interest periods.
Step 2
Looking for a property
There are two scenarios:
1. You can search through specialised sites, like Funda or VBO and make selections and appointments yourself. You can call an estate agent to represent and accompany you, if you choose to do so, when you have found a suitable property. The agent will assess the property, give advice on the buying process and negotiate for you.
2. Contact a real estate agent right away. We advise you to do this as registered agents may be aware of properties before they are listed on the public search sites. The agent will discuss your needs and budget, inform you of available houses, arrange appointments, request relevant information and conduct negotiations for you (charging for this complete service).
Fees differ from agent to agent. The fee for a full service will be between 1% and 1,75% exclusive of 21 % value added tax (BTW).
Expat Mortgages has agreements with a great network of agents used to dealing with international clients.
For more information, please send an e-mail to info@expatmortgages.nl  or call our office.
Step 3
Bidding and buying a property
When buying a house in the Netherlands, the purchase will normally relate to:
1. The purchase of a house, registered independently as a whole at the land registry or.
2. The purchase of an apartment right, registered as such at the land registry and managed by the board of an Owners' Association (VvE). An apartment right consists of part of a whole apartment complex. You will often come across this situation in cities like Amsterdam, Rotterdam, Utrecht and The Hague.
You have a statutory right to cancel the contract of sale within three days of signing it, without giving reasons (cooling off period).
A civil-law notary is always involved in the purchase and sale of immovable property.
The property buyer is entitled to appoint the civil-law notary of his or her choice. We will be glad to help you find a suitable civil law notary!
As a rule of thumb, the buyer's costs usually amount to around 5%-6% of the purchase price for the property to live in. Some people might be exempt from transfer tax (aged 18 to 35, for a property below €400.000)
The contract of sale sets out information about the house, the price, the obligations of the buyer and the vendor, the date of conveyance and the guarantee. The guarantee comprises a 10% down-payment to the civil-law notary's escrow account.
That 10% can be paid in cash to the civil-law notary's third-party account if sufficient liquid assets are available.
Another option is to guarantee the 10% with a bank guarantee. Expat Mortgages can arrange the bank guarantee on your behalf.
The contract usually includes a clause stating that the agreement is subject to financing being arranged.
That dissolving clause specifies the amount of time you have to arrange financing so that the purchase can proceed. If you do not succeed in obtaining a mortgage within the agreed period (4-6 weeks in general), you can unilaterally terminate the contract. You will however need a written statement from two banks confirming that they have rejected your application for a loan.
Buying a home and accompanying costs
The price of a house in the Netherlands is always followed by an abbreviation, either 'KK' or 'VON'
'KK' means that all of the costs related to buying a house are paid for by the buyer ('Kosten Koper', or 'purchasing costs payable by the buyer').
'VON' stands for 'Vrij op naam', or 'purchasing costs payable by the vendor', which in most cases only applies if you are buying a newly build property.
For that reason, we will concentrate on 'KK'
These costs include:
-Transfer tax (2%)
-The costs of registering the  property in your name and having that information filed in the usual registers (civil-law notary).
-The costs of your estate agent (if applicable)
-The fee of Expat Mortgages
-The National Mortgage Guarantee costs (if applicable)
-The costs of registering the mortgage in the usual registers (civil-law notary).
-The costs of the valuation/appraisal provided by an independent surveyor
-The bank guarantee costs (if applicable)
-The costs of an structural survey (if applicable)
Step 4
Preparing your mortgage application
When preparing your mortgage application we will need the following information from you:
1. Information about you personally
2. Information about the property to be mortgaged
3. Information to substantiate your financial position
1. Necessary information about you personally
• A copy of your passport
• A copy of your residence permit*
2. Necessary information about the mortgaged property
• Copy of the purchase-agreement, signed by both parties
• Original valuation/appraisal report
• Structural survey report (if required)
3. Necessary information to substantiate your financial position
• Employer's declaration. A statement made by your employer confirming your annual income based on salary, bonuses and fringe benefits.
• Salary specification. Your monthly pay slip, which will correspond to the information given in your employer's statement, and which will also show aspects such as the 30% ruling, expenses, payable taxes, etc.
• Statements of savings accounts or loans, investment portfolios and property owned outside of the Netherlands.
• Confirmation of the tax department's granting of the 30% ruling (if applicable).
Step 5
Taking ownership at the notary
You may not transfer the ownership of a house in the Netherlands without engaging a civil-law notary. The civil-law notary is impartial. For more information about this role, see: http://www.knb.nl/english
What we take care of:
– We have agreements with civil-law notary firms in most regions concerning the service to our customers, communication in English and the fees charged.
– We have agreements with interpreters who are familiar with the methods used by the civil-law notary for the transfer of title of real estate.
– We check the statement of completion of the notary on behalf of our clients.
– We will be present during the transfer of title procedure and, if necessary, when the (provisional) contract of sale is signed.
What the civil law notary takes care of:
• Drawing up the contract of sale (this can also be done by the estate agent or another party).
• Drawing up the deed of delivery for the home.
• Drawing up the mortgage deed.
• Having details filled in the public registers.
• Carrying out checks (to establish, for example, whether the vendor is entitled to sell, whether the home is subject to an attachment order, etc.).
• Attending to the settlement and transfer of funds.
Costs:
The fees for notarial services were liberalised a number of years ago, and civil-law notaries these days compete on price and service. You will often be given a discount if you have the civil-law notary carry out several tasks at the same time (e.g. drawing up a cohabitation contract, a will, etc.)
Step 6
Arranging your taxes
In the Netherlands, some of the interest paid on the mortgage of your main residence is still tax-deductible for a maximum of 30 years (Tax Box 1). Main requirement: the mortgage is a capital repayment mortgage.
Provisional refund
Usually you pay your mortgage interest monthly. For that reason it is useful if you can also receive your tax benefit monthly. Expat Mortgages organises the provisional refund for its clients free of charge for the first year.
That way, the balance between your monthly mortgage expenses and the tax rebate becomes your net monthly payment.
Deemed (rental) income
Private home ownership is deemed in the Netherlands to be part of your income for income tax purposes. Costs, charges and depreciation related to home ownership are eligible for a tax allowance.
Home ownership and the expenditure referred to above are incorporated as a fixed sum in the taxable (net) deemed rental income. Also, some of the payable interest and costs related to the home acquisition debt can be deducted from taxable income from employment and home ownership (box 1).
Tax Box 3
Tax on investment property is treated the same as other assets in the so-called Box 3 asset tax. The tax man assumes a fixed gain of  5.53% pa, taxed at 34%
Step 7
Let's stay in touch!
There are several reasons why it makes sense to keep in touch with us.
1. You would like advice on other financial matters.
If we are unable to help you ourselves, we will be pleased to introduce you to one of our business partners. This could relate to matters such as: insurances, financial planning/investment advice, pension issues, tax advice, renovators or interior decorators.
2. You want to let your house or apartment after getting permission of the mortgage provider and would like to get in touch with expert real estate companies.
3. You are moving out of the Netherlands. In that case we can help you to sell your home.
4. You would like to get in touch with a tax consultant to tie up all the loose ends before leaving the Netherlands.
Expat Mortgages has a loyalty program for existing clients who refer us to new ones. For more information, please send us an e-mail!
Expat Mortgages is registered with the Amsterdam Chamber of Commerce under registration number 34208813. Expat Mortgages is supervised by the AFM ( the Dutch Authority for the Financial Markets, which has been responsible for supervising the operation of the financial markets since March 2002). Our permit is included in the Wft register under number 12016498. Our consultants make sure their expertise and knowledge is up to date by taking annual refresher courses.